I find it odd. When searching for actual customer reviews & testimonials for LetterJoy, there aren't many. I WONDER WHY?
If you haven't heard about LetterJoy, it's a subscription letter service that sends one historic letter a week to your mail box. Their tag is something like: "History's best letters to your door."
The boy gifted me a 3 month subscription this past Christmas 2018. When I heard what he picked out for me, I was geeked. This was going to be the gift that kept on giving, and I was eager to also get additional information about their educational letters since we homeschool.
HOWEVER… I've had 3 separate issues and have been given the runaround by whomever mans their FB messenger – which is where I first contacted them to (hopefully) resolve my issue(s).
My general overview and review of the LETTERJOY service is: cool concept, but too many glitches, lackluster customer support, and I feel they still haven't rectified my account situation. In short, I was awarded TWO WHOLE ADDITIONAL LETTERS "for my troubles" and still crossing my fingers, toes and eyes whilst I await their arrival!! Below is my blanket review of LetterJoy for anyone that cares to read:
Got LetterJoy as a gift. Have had 3 separate issues with my account. Since this was a gift, I contacted them through their FB messenger. My first letter arrived (late- but I figured NBD) was excited, and happy… at first. Then my second letter arrived with 2 duplicate pages. I contacted c/s- was told they wouldn't send a replacement- that they would add a letter to the end of my subscription (after a lot of verbal run around)… ok- so incomplete letter #2 – letter #3 never even arrived. I live in a pretty big city, no inclimate weather conditions, and got ALL my other mail timely. After a lot of back and forth I was given excuses, and ambiguous solutions that I had to ask for actual clarification… more than once. SUPER FRUSTRATING. Felt like I was dealing with a bot. As it stands, I'm NOW awaiting letters #2 and #3 – which I have been advised they are resending, and then hopefully whatever else is supposed to arrive as per my gift subscription – oh and TWO whole additional letters "for my troubles" As of now, I'm definitely underwhelmed. Hopefully others haven't had my same negative experience with LetterJoy's customer service. It's a cool concept and I was totally geeked when I initially found out about my gift… BUT- it doesn't feel like Christmas every week when I open my mailbox and get NOTHING!!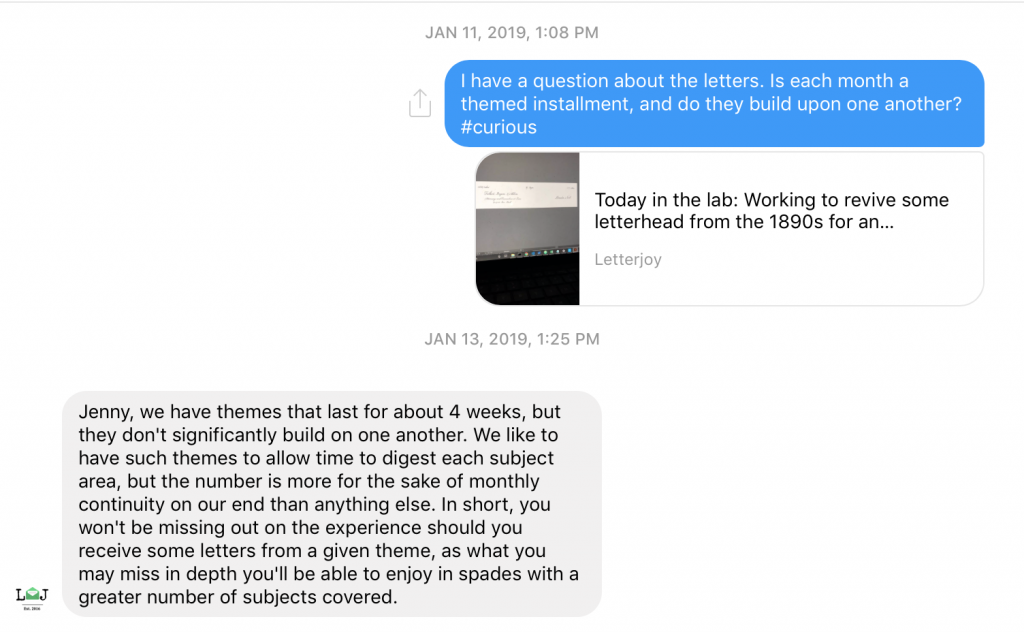 I sent copies of the letters, and the post marks for what I received as proof or WHEN they mailed my letters, and their contents.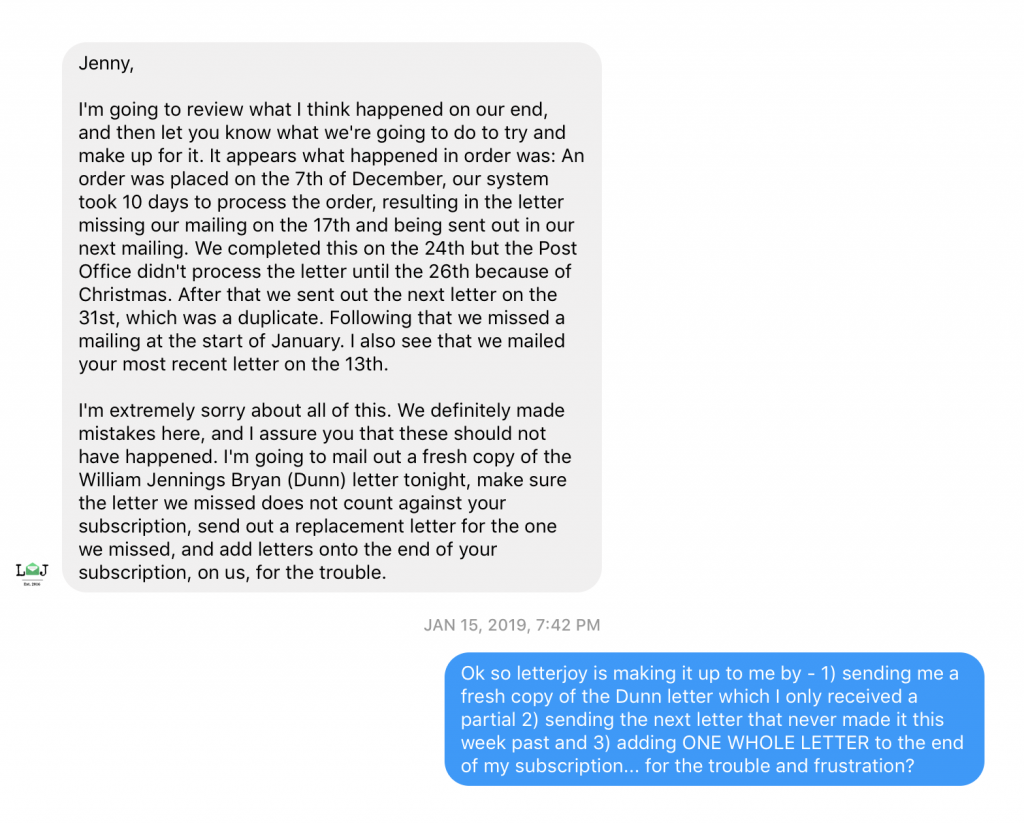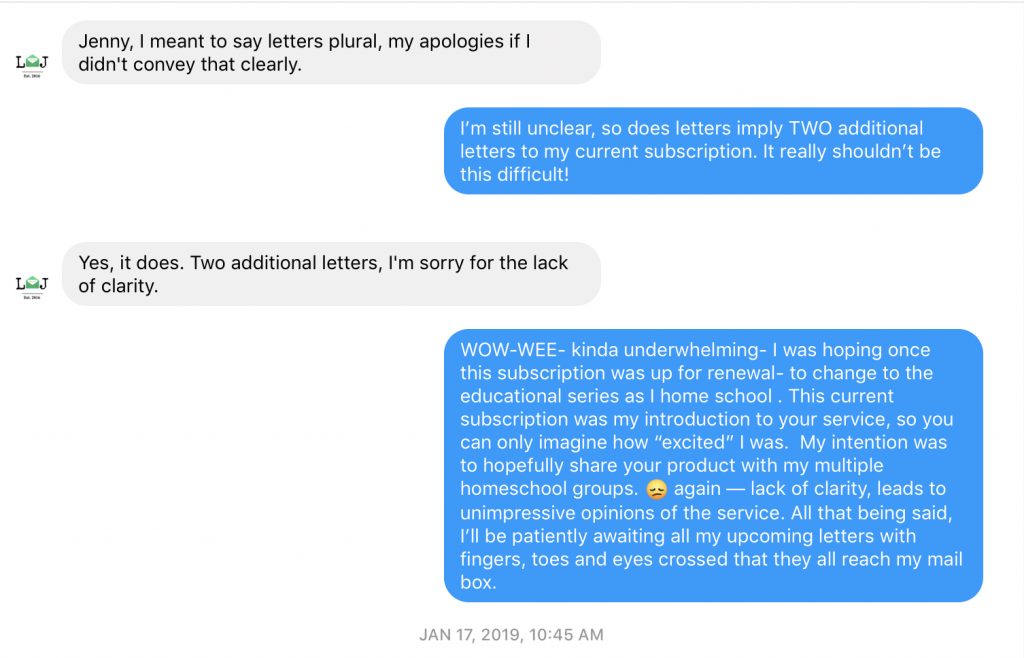 Thought I'd add the correspondence with their c/s dept for the record.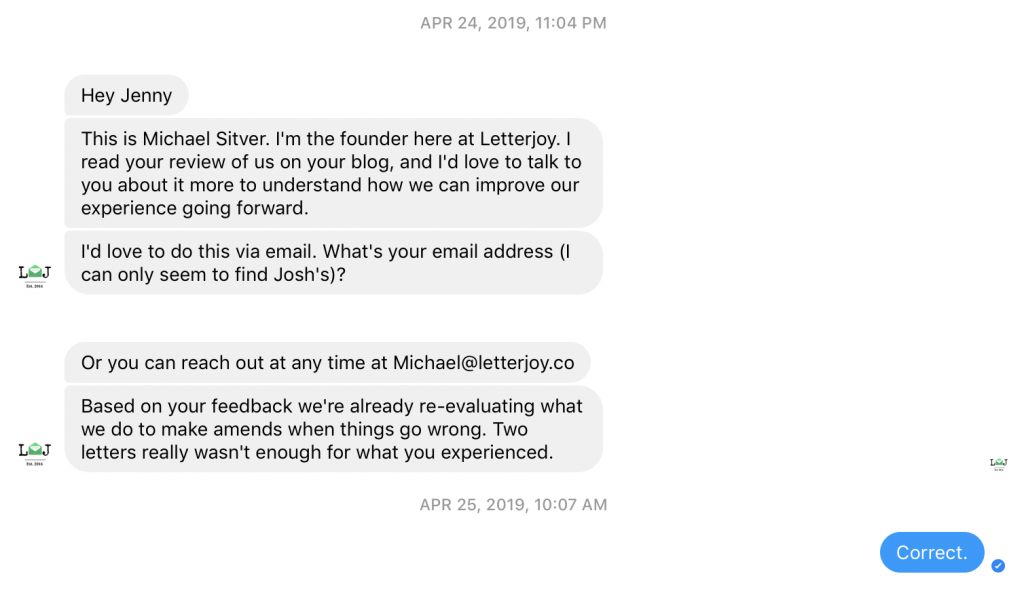 So the subscription ended, we didn't renew, and THEN the CEO reached out. Nothing came about the message he sent to me. For what Josh paid for this gift…I think it was around $50- the service did not live up to the expectation. Customer Service 101, make sure your customers are happy, do whatever you can to attempt to make that happen.