Part of my budgeting for the family, is to make sure that while we're paying the bills and doing all the responsible things that "adulting" has to offer, we all have a TRS column on the spreadsheet.
TYS- that's right, Treat Yo Self
Unlike Donna and Tom, it's not a free for all that happens on the best day of the year… but a monthly little sumthin sumthin. It helps to keep all that crazy spending, a little more reeled in. And a monthly something special, helps us all stay more on track with our financial goals overall.
So, WHAT do I like as a TYS goodie or thing?
Here's a few of my personal favorites:
Macarons from that fancy pastry shop
monthly pedicure (LP opts for the mani)
frosty and fries from Wendy's
new nail polish or lip gloss color for the season
bubble tea
a new top or shoes for the season
These are just a few things that I like to do every once in a while to remind myself that while being continually conscious of what we spend and how we spend it… that it's ok to have a little fun along the way. I think by having the availability to spend just a little bit of money on myself every month, I don't feel so restricted with having a budget.
How does Josh treat himself? That's pretty easy. He likes a good bottle of Bourbon, Scotch or Whiskey. So, once a month he finds a bottle to add to his ever changing collection. Recently he bought a new pair of shoes! There's even been talk of him crashing the mani/pedi party and getting his nails done!
Lizzy has very similar TYS tastes like me. <3 She's also at the age where she's getting interested in jewelry and handbags!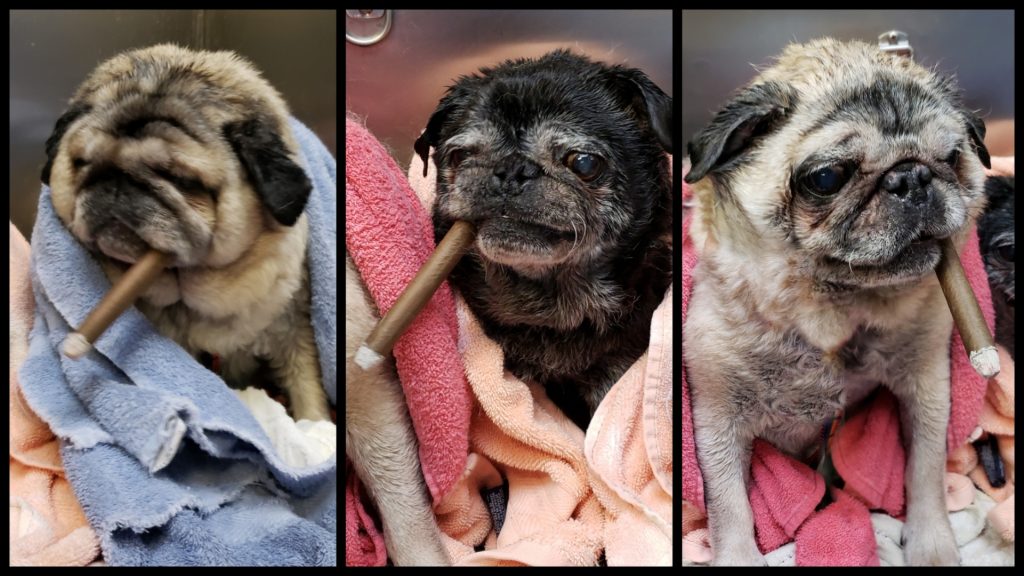 Even the PUGS have recently had a TYS moment. What happens at the PugSpa stays at the PugSpa. BOL!!
Sebastian

Thumper
It's not a work hard play harder mentality… it's an earn it and appreciate it way of life.
SO… what do you do to treat yo self? I wanna know!