For the past 6 months I've been on a quest for a new pair of "perfect ballerina flats" Now I'm kicking myself…Why didn't I buy these sooner?
I wear a fairly common size 6.5… However not all shoe companies do half sizes, what's up with that?
My go to pair of Lucky Brand Emmie flats (in burgundy suede) were finally showing their age after a little over a year of wear. I then went on the great quest for another pair, and sadly it seems Lucky Brand revamped their Emmie flats. The material was different, the fit wasn't quite the same and the new improvements had me returning my follow up pair. *sad trombone
So I hit the internet, searched high and low to the many corners of the web hoping to find my next perfect pair. Is that too much to ask for? Let's just say that between Amazon and Zappos, Lucky and a trip to the DSW, with about 15 pairs tried on and approximately another 15 pairs of shoes delivered, I was left sad and barefoot.
My original price point was under $100. My Lucky Brand flats were $65 when I bought them. Since I was having ZERO luck, I started thinking about other higher priced shoes like Tieks, Rothy's and All Birds.
I ordered Rothy's first after a friend said she loved her pair of 'marigold the point' shoes. What intrigued me about the Rothy's brand was the fact that the shoes are made from recycled plastic bottles. No, I'm not running around Austin TX with my feet crammed into water bottles… these flats are stylish and cute!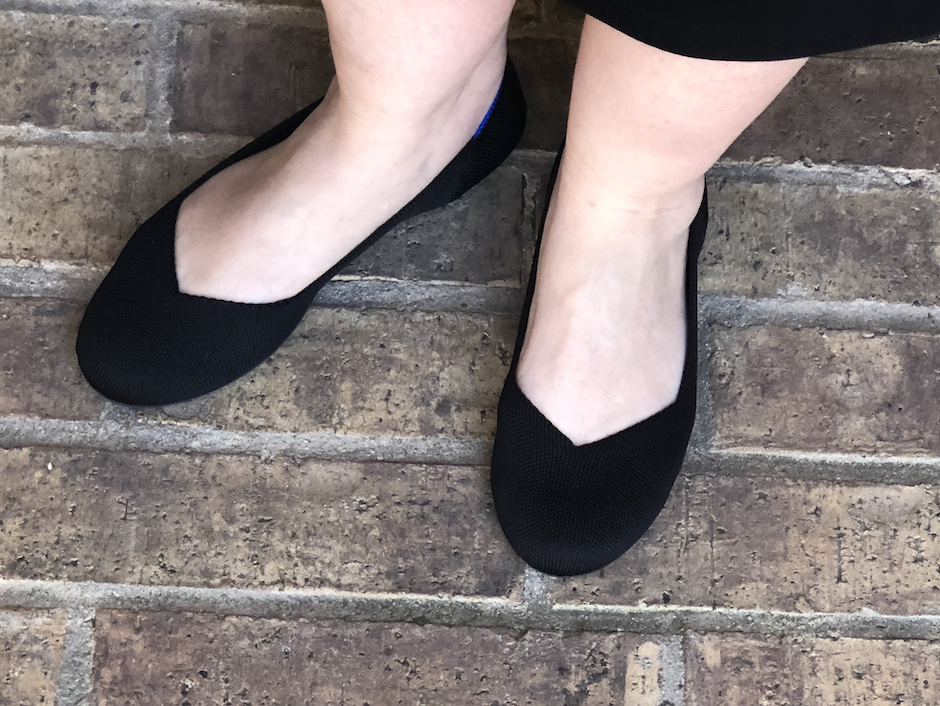 Rothy's is also mindful with sustainable packaging and shipping. The shoe box and shipping is all in one and durable, which is great because I'm actually a weirdo and like to keep my shoes in their boxes when not on my feet. Both the outsole and insole of the shoe are eco friendly too. That was another plus point in my opinion. So I ordered my first pair of shoes in black solid.
WHAT WAS I THINKING?!?!?!?! I should have bought one in every color!
First off, Rothy's has HALF SIZES!! YAY ME!! Second, there are many styles to choose from. I wanted a traditional ballerina flat and went with "the flat" as a good way to do a comparison to what I was wanting to update and replace.
Shipping was lightening fast. I ordered my Rothy's on 9 February and they arrived on the 13.
Rothy's sizing is spot on! These flats fit my 6.5's perfectly. I feel like Cinderella! Yes! THAT PERFECTLY. No slipping, no squishing, just right! And they're comfy; like wearing a pair of memory foam sneakers, or comfy slippers, they hug my feet. You can also order additional insoles for your shoes when the time comes. Super convenient way to get more life out of your shoes.
I immediately wore them for the next few days and wow- no break in time at all! I can't feel any seams on the interior, so no blisters or rubbing anywhere.
And they're washable? Which means I'll get even more use of of these shoes than my aforementioned Lucky Emmie suede flats. Just remove the insoles, wash shoes and insoles separately in cold water on the delicate cycle with mild detergent and let them air dry. Using a garment bag would be a good idea. (OH! and no heat or sun for the drying process.) Once dry, insert the insole in your shoe and you're ready to go.
Once I started shopping Rothy's online, I remember my friend Nicole's yellow pointed Rothy's shoes, so asked her opinion. (She's a writer, check out her book!) Nicole said those marigold shoes have been worn all over the world, (she's a traveler), and have been washed and air dried at least twice. She pretty much lives in them. So the shoes are durable and made to last.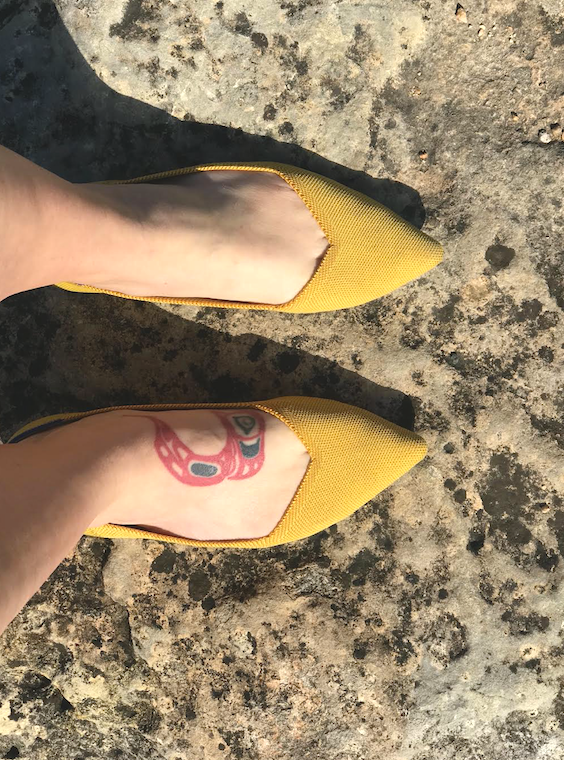 It got me to wondering, why didn't I but them sooner? I'll admit the price point was something to consider, only because I had had so many misses with the other attempts at finding a pair of flats. I had pretty much given up. But I was worried about comfort. The idea of recycled plastic doesn't sound plush or cozy, but I was wrong.
For the price, the feel and look of these shoes is well worth the $125-$195 tag. Fresh fashion forward colors and patterns to choose from, and up to date classic styles and detailing makes them a win in my book. And my feet aren't growing, so when I buy a pair of shoes, it's "for life" LOL. And buying something that's reducing waste and more eco-friendly may sometimes cost a bit more. But it's worth it in the grand scheme.
Shoe shopping is fun when you can go into a brick and mortar and actually see and feel the product. Good thing about Rothy's is their return policy. You can try them on in the comfort of your home and if you don't like them, return them within 30 days of receipt. There's even options for returns: in store (locations in San Francisco, DC and Boston), via USPS or FedEx with a return shipping label, OR return to a Happy Returns Return Bar in your local area.
Either way, so far, I'm loving these shoes. I hope they get to go on some of my own travels soon because they're made so well, and are so darned comfy, that I want them on my feet!
SO-O… come shoe shopping with me and use my referral code to save! You'll save $20 and I'll get $20 towards my next pair. I have my eye on a cute pair of scooter red flats!
If you use my code to order LMK what you got, I'm curious to know what you think of the Rothy's shoes.