Looking for a really unique OOAK item? Like sustainable fashion accessories? Need to find a gift for someone special? Then you need to check out RAREFORM.
Rareform is a California based company that creates OOAK items (see the never ending list below) from recycled vinyl billboards. Sourced all throughout the United States, this accessory company is doing something unique, good for the environment, and special for your daily use. Cool bonus points with using these vegan eco-friendly accessories, besides the bragging rights of saving the planet, one accessory at a time, is that they're weather resistant.
Use my referral code and you can save $20 on your order of $75 or more. And when you save $20, I'll get $20 towards my next RAREFORM item, so it's a win win for both of us, and I like to shop so TY and YW! 🙂 Oh and free shipping in the USA on purchases $100 or more.
Now to do a little show and tell!
First up the ELLA TOTE, retails for $62 USD.
As you can see my ELLA tote is unique. I'm unsure exactly what the original billboard might have been? Maybe the front and back are from 2 separate campaigns? Whatever it was, it's on my arm now. This tote is the perfect every day purse size. It has a zipper top closure, a lined interior (black nylon?) and a small interior zipper pocket. Its comfortable to carry by hand or wear on your shoulder. It easily carries all my essentials: wallet, keys, iPhone, makeup bag, sunglasses case, a reusable shopping bag, tissue, hand sanitizer and a face mask. Added bonus: the vinyl is super lightweight, easy to clean (just wipe with a damp cloth) and weather resistant (so if I get caught in the rain I'm not too worried about everything inside or the bag getting ruined.) These bags are made to be used! And at $62 a bag, I think they're pretty darned affordable!
When I saw the print on this MAYA tote, I had to get it. It's just made me smile. This looks like it was a Deer Park sparkling grapefruit water billboard. The MAYA tote comes with an additional crossbody strap, making it a great goto option for a short weekend getaway, or if you're looking for a large tote that will carry everything and then some for daily use, commuting to and from work, then this bag is a great option. On the front of the MAYA is a pouch/sleeve, the back side has a zippered pocket (great for traveling, pop your passport and a book or kindle there for easy access.) The interior is lined with black nylon. Interior front of the MAYA you'll find 3 mesh pouches, great for storing items, and a large zippered pouch that runs across the topside of the bag. On the interior back side, there's a padded sleeve that a 15″ laptop will fit, and a large zippered pouch with a mesh front. You could practically live in this bag, there's room and storage for everything. LOL
I also scored a few accessories.
Simple no frills cosmetic bag. The Riley cosmetic bag is made with a vinyl exterior and pretty nylon interior. Easy to clean inside and out.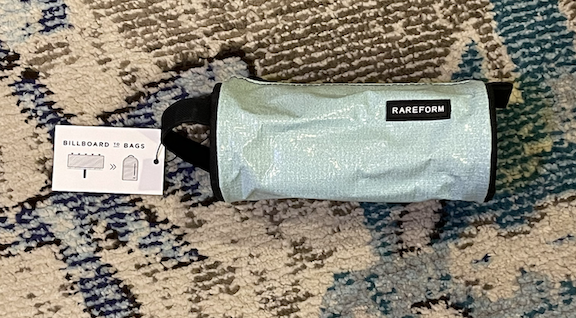 Great way to carry your tech accessories, or use as a small makeup bag for on the go, or toss your sun glasses in it… it's pretty versatile. I like the loop handle, you can clip it to a bag handle. Tres chic! Vinyl exterior, nylon interior- you know the drill.
RAREFORM has so many items to choose from. (Read that as they don't just make purses, LOL.) There's something for everyone on your list. So they have great gift giving options. I'm looking at a wallet for the hubs for Father's Day… coming up on 20 June 2021.
purses
totes
crossbody
fanny packs
backpacks
laptop bags
duffelbags
cooler bags
lunch totes
surf board bags (you read that right)
wallets
wristlets
cosmetics bags
travel accessories
toiletry bags
passport holders
keychains
luggage tags
iPhone cases
apparel
THE LIST goes on, There are so many different styles, shapes, sizes… so many options to choose from, and each one is unique! Just like you and me!
OK so here's where the fun begins! RAREFORM is always adding new inventory. Whatever you're looking for, whatever color combo, whatever size or style… they're bound to have something that will entice you! I love browsing all the different bags and accessories to see what kind of hidden gems I can find. I'm always looking for something unique and different. Currently looking for something that has the letter J on it. SO if you spot something there, leave me a comment below!
**But buyer beware, if you see something you love… BUY IT! Don't wait. Put it in your cart. If you don't there's a pretty good chance that someone else will.
Final note because this really should have been broken into 2 or 3 separate posts… might do that later… the quality and workmanship of all the items I've received, has been surprisingly good. Attention to the little details like zippers, stitching and function of the bags, everything has really been well thought out. I kinda wished I surfed, because I'm really intrigued by their surf board bags!
So if you're shopping, use my link! You save $20 on any purchase totaling $75 or more, and I'll get $20 towards my next item to purchase and review.