Just get to THE POINT – am I right?
After my last great quest for the perfect ballerina flat, I landed into a pair of Rothy's ballerina flats in black. So-o of course on my next footwear hunt, (from the comfort of my sofa) I wanted to find a pair of flats that were a bit more sophisticated, but still be comfortable… Guess what I bought?
Yep, another pair of Rothy's, but this time I opted for "the point" pointed toe flats! And here's the TLDR: buy them a 1/2 size up from your usual size. I'm a 6.5 in the ballerina round toe Rothy's, and for the point, I scored a pair of the Zebra B&W print in size 7… and they're FABULOUS.
Just looking for a coupon code? USE MY LINK – you'll save $20 on a pair of shoes and I'll get a $20 referral bonus. LMK if you used the code! OH, and thanks in advance! 😉 Referrals help me fund another pair to purchase and review (next up will hopefully be the sneaker.)
What I really love about the Rothy's brand, besides the fit and feel of these eco-friendly shoes, are the options. So many styles of comfy shoes to choose from and an ever evolving merry-go-round of classic solid colors and seasonal patterns that make pretty much every shopper happy.
So the pointed toe Rothy's flats, have a very similar feel to the rounded toe flat, however as per the size guide at Rothy's, for the best fit, they suggest to go up a 1/2 size. They weren't wrong. Yep, the folks at Rothy's know what they're talking about.
I love the pointed to silhouette. They really look a bit more on trend and dare I say grown up, but not in that frumpy or stuffy way. I mean they're a more elegant option for a walking shoe, that's machine washable and also eco friendly. Price point for the point flats are $145 a pair.
And now… for the moment you've been waiting for – that's right pics of feet my cute feet in shoes!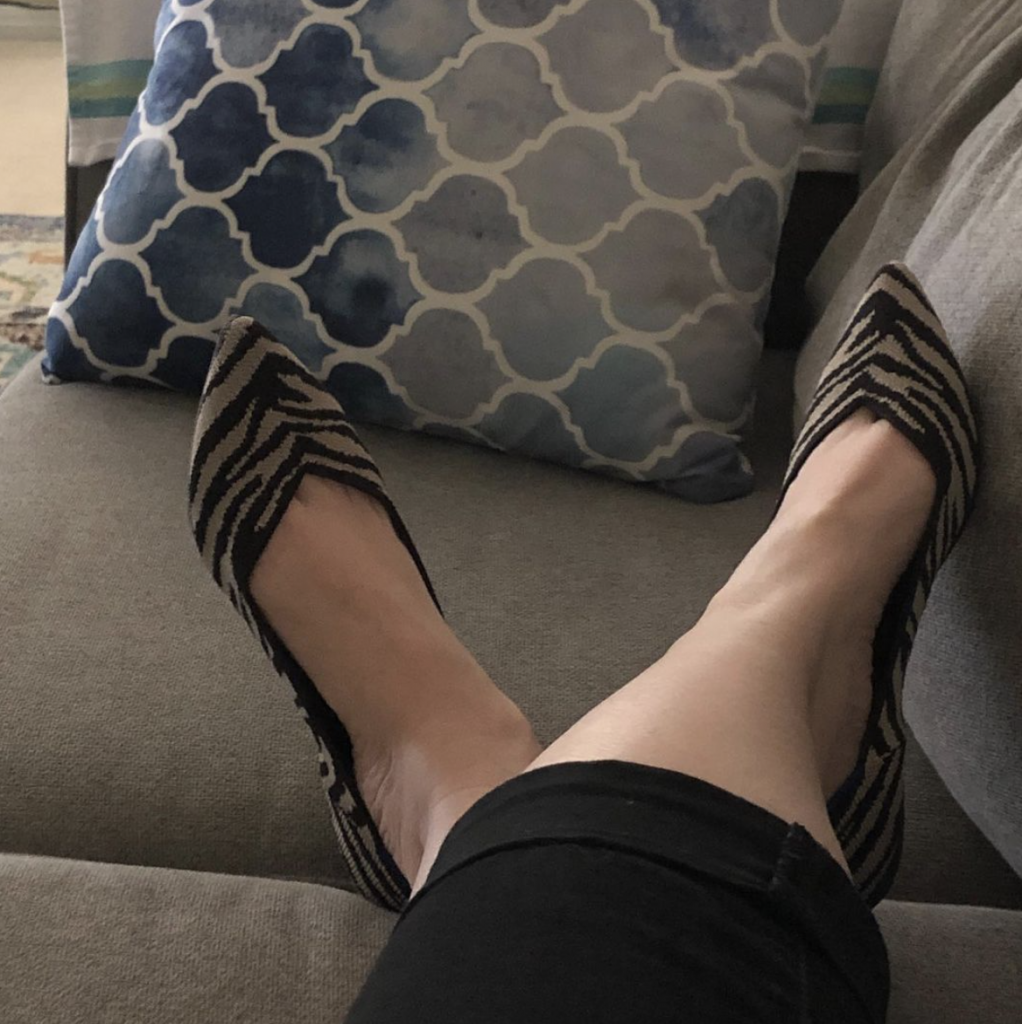 A BIT ABOUT ROTHY'S IF YOU'RE NEW TO THE BRAND:
Rothy's shoes are made from recycled plastic water bottles. As per their tag line, "They're machine washable and ready for adventure."
Rothy's offers shoes in women's and children's sizes
Rothy's offers eco friendly handbags and accessories for many of life's different occasions.
Shipping is quick and the packaging is mindful.
Rothy's company is focused on sustainability and and are working on a goal of a closed-loop production model by end of 2023.
These eco-friendly shoes are super comfortable, washable, and have no break in time. Seriously, you take them out of the box and you're good to go, on your way, and blister free! At least that's been my experience! 🙂
Rothy's shoes are machine washable, (remove the insoles) air them dry and you're ready to wear them again and again. Additional insoles are available to purchase. Delivery turnaround for both of my orders were about a week. Packaging is minimal and the shoe boxes are sturdy for shipping and storing your footwear.
Shoe shopping during 2020-2021 has definitely changed for many of us who are choosing to remain home during the pandemic. Good thing about Rothy's is their return policy. Order your shoes, try them on in the comfort of your home and if you don't like them, return them within 30 days of receipt. There's even options for returns: in store (locations in San Francisco, DC and Boston), via USPS or FedEx with a return shipping label, OR return drop off to a Happy Returns Return Bar in your local area. Be sure to double check their return policy as it may have been recently updated.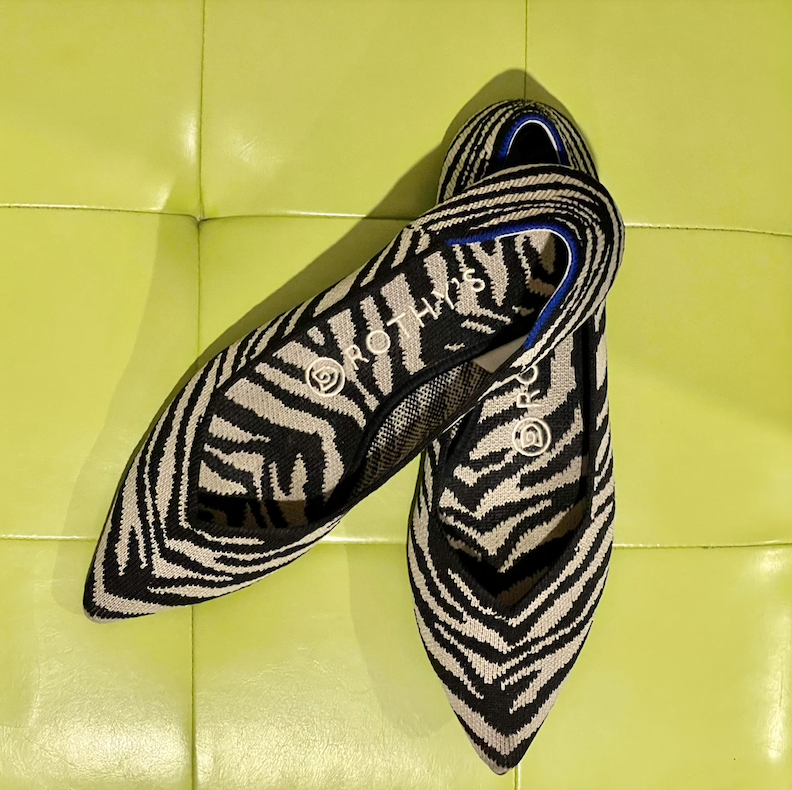 So click on my referral link to SAVE $20 on your purchase! What are ya waiting for? Your new shoes are waiting for you! 🙂